Space Camp Turkey is World's second, Turkey's first and only space camp.
Training, Teamwork, and Technology
As a space and science education center, Space Camp Turkey is primarily focused on motivating young people from around the world to pursue careers in science, math, and technology. All activities implemented in Space Camp Turkey are organized around STEAM+ Education standards. STEAM+ Education is an approach to learning that uses Science, Technology, Engineering, the Arts, Mathematics, Social, and Language as access points for guiding student inquiry, dialogue, and critical thinking. Through interactive, space-related simulations, both youth and adults learn about communication, teamwork, and leadership in a dynamic, fun-filled environment.
Programs & Simulators
Programs at Space Camp Turkey focus on simulators to give participants the sensations of working and living in space. It takes 8 1/2 minutes to reach space, but years to prepare for a real mission. At Space Camp Turkey, we pack years of mission training into 2 through 6-Day programs.
Global Friendship Through Space Education
Education and entertainment center Space Camp Turkey, which was opened on June 12, 2000 has been visited by more than 260 thousand young people and adults from over 60 countries. Our state-of-the-art facility offers an ideal environment where young people from different nations can come together to build long-term friendships and understand other cultures.
Unique Facility, Unique Location
Space Camp Turkey is the second Space Camp in the world. We are proud to have the only such facility in Turkey, the Middle East, Europe and Asia. It is located in the Aegean Free Zone, a high-tech industrial park in Izmir, operated by ESBAS. Izmir is a vibrant Aegean city on the western coast of Turkey with a population of over 4 million. 10 minutes from the International Airport, 15 minutes from the City Center.
International Credentials
Space Camp Turkey is recognized as a science institution by the Turkish Ministry of Education and is a member of the Turkish Camp Association. It is also licensed with the Alabama Space Science Exhibit Commission, headquartered in Huntsville, Alabama.
Our counselor staff (Turkish and International) consists of college graduates and undergraduates. Some are education majors while others are pursuing masters and doctorate degrees in astronomy or have certificates in various education programs. All program staff members receive training in the following areas: space education, Space Camp Turkey activities, and safety for simulator operations
Senior camp staff and a specialized security staff are on-site or on call 24 hours-a-day, seven days a week when camp is in session to ensure the safety of all campers. At no time are campers allowed off site individually or as a group without an accompanying adult. Off-site trips are limited to those included in the program curriculum. Security of personal items is the camper's responsibility. Campers will be assigned a locker to store items of value; however, we suggest that campers do not bring items of high value to camp.
Counselors are highly trained and certified in the proper use of all simulators to ensure that campers have a safe and enjoyable experience. Each simulator is built to the highest standards and all equipment is safety checked daily and maintained by professional technicians. It is mandatory that all campers wear a safety helmet when using most of the astronaut training equipment. Campers must be at least 4 feet (120 cm) to ride the simulator. Maximum weight for the astronaut training simulators is 210 pounds (95 kg) per person.
The entire facility and each enclosed simulator are equipped with smoke detectors and sprinkler system.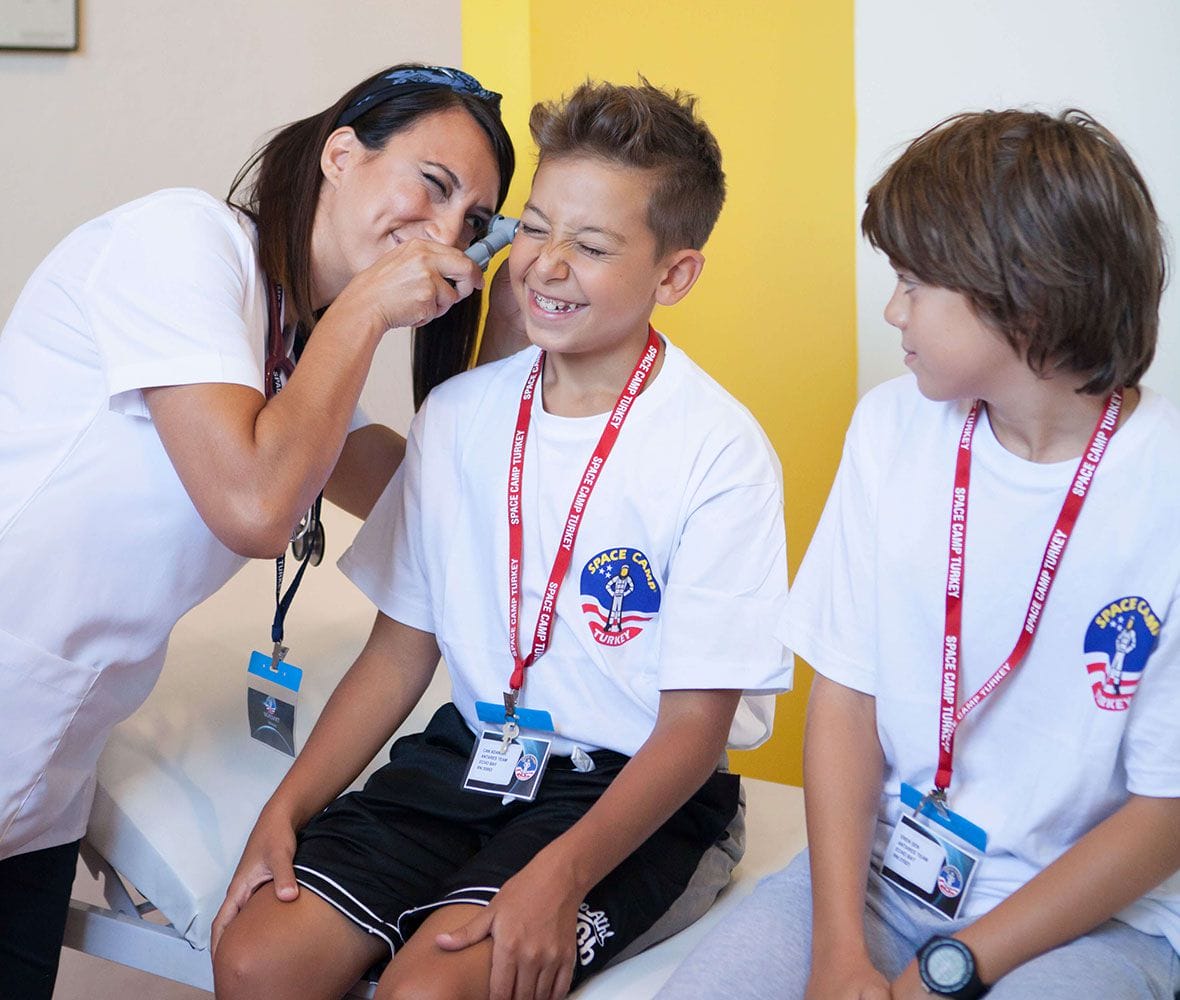 There is a nurse on duty at all times and an eight-bed infirmary in the camp. On the weekdays between 08.00am-6.00pm, health problems are treated by our camp doctor. Outside working hours, there is a camp doctor who can come to the camp if the nurse and/or camp doctor deems it necessary.
Children, in cases deemed necessary by the camp doctor, can be transferred urgently to a hospital that is contracted with Space Camp Turkey and located very close to the camp. There is a 112 emergency ambulance station located near the camp.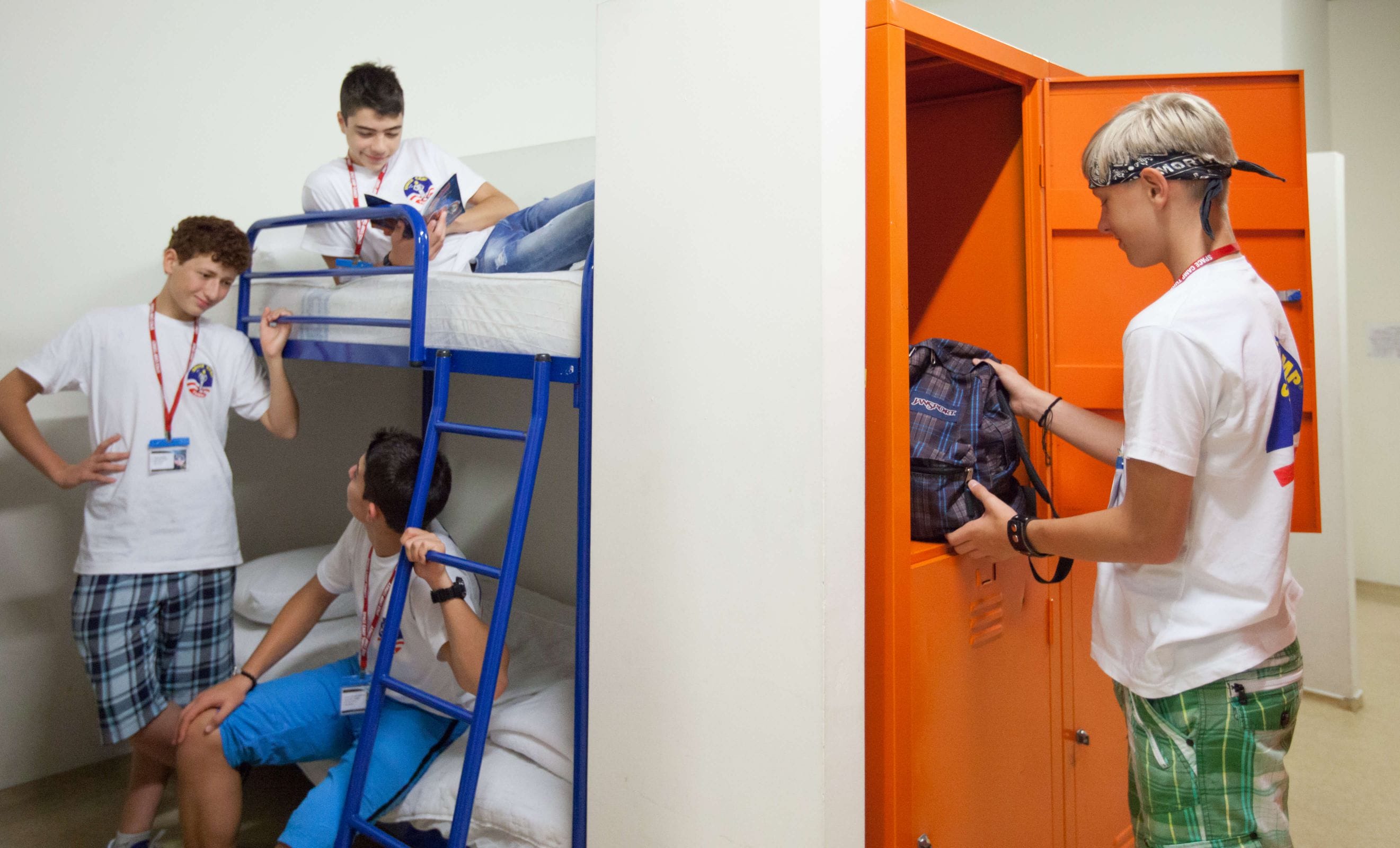 Male and female campers are housed on separate dormitory floors in the Space Camp building. Each sleep bay accommodates 24 campers in bunk beds. Counselor rooms are located adjacent to each bay. Total bed capacity is 325. Access to the dormitories is controlled by counselors and monitored by video surveillance. There are emergency exits on each floor. Bed sheets, blankets, pillows, pillowcases and towels are provided. Each camper will have an assigned locker. Space Camp Turkey recommends you bring your own lock, but if necessary, you can purchase one from us. Each sleep bay is adjacent to bathrooms which have sinks, private shower stalls, and private toilets. Space Camp Turkey recommends you bring slippers with you.

Pets are not allowed in Space Camp Turkey facilities.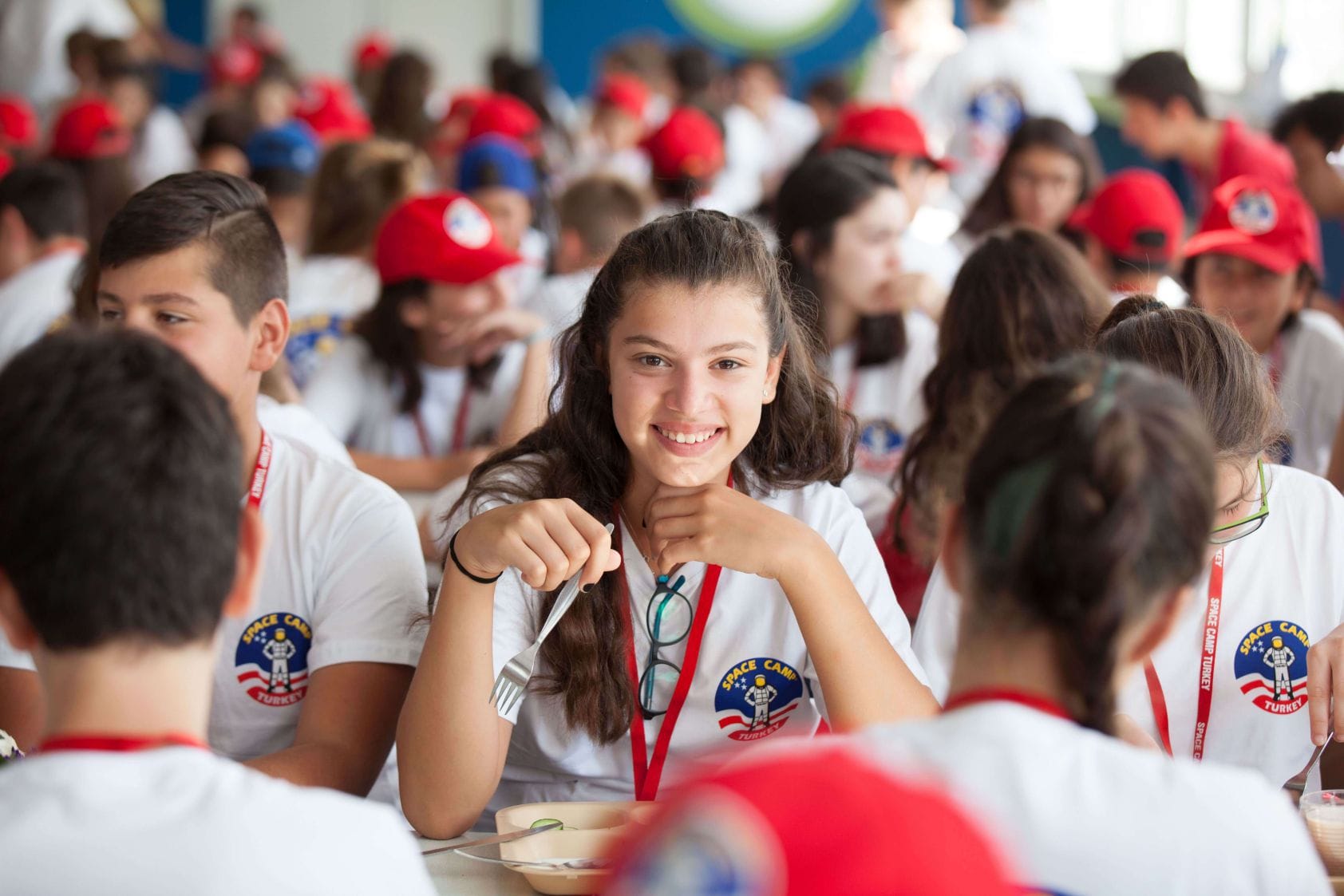 As part of the camp tuition, breakfast, lunch, and dinner are provided in the Space Camp cafeteria from the evening of arrival up to graduation. During each meal, we offer a variety of foods. Snacks and soft drinks are for sale at our canteen within the facility at the camper's expense. We try to accommodate campers with special dietary requirements. If the requirement exceeds our capabilities, campers are welcome to bring their own food and/or pay the additional cost of meeting those needs.
Please do not send food to camp with your child unless it is to accommodate special dietary needs. Advance notice is required if your child will be bringing food for this reason. Please complete the "diet restrictions" section of the "health form".
We are extra careful about preparing meals for your children. We work closely with ESBAS Food Services, which operates according to the International Organization for Standardization (ISO) 22000 Food Safety, management system regulations.
We strictly adhere to parent requests for serving special dietary meals to their children. However, please keep in mind some food prepared by ESBAS may possibly contain traces of allergens. Such substances can originate from (and are not limited to) cereals and products containing gluten, crustaceans, fish, eggs, peanuts and other nut products, soybeans, dairy products, celery, mustard, sesame seeds, sulfur dioxide, sulphites, lupine and mollusks.
We always screen special dietary meals before they are served to campers. However, parents and guardians need to be aware that if their child has an unforeseen allergic reaction to their food, Space Camp Turkey and ESBAS do not assume responsibility or liability for any such incident.
Participants will be responsible for meals and drinks before check-in and after graduation.
Sample Menu
As part of the camp tuition, breakfast, lunch, and dinner are provided in the Space Camp cafeteria. At each meal, we offer a variety of foods to appeal to different preferences. Snacks and soft drinks are also available from our canteen within the facility at the camper's expense.
Sample Breakfast
Cereal, Cheese, Olives, Eggs, Honey, Milk, Fruit, Juice, and an assortment of breads
Sample Lunch
Chicken Fingers, Pasta with tomato sauce, Fruit, Salad, Juice
Sample Dinner
Spaghetti and meatballs, Salad, Brownie, Juice
Space Camp Turkey is certified by a BSI external audit and as of February 16, 2010 officially part of the integrated management system implemented at ESBAS.
Space Camp Turkey is officially certified in the following three quality management systems:
ISO 9001 certification for building, sustaining, and continually improving quality management systems.
ISO 14001 certification for determining the means of implementing an effective Environmental Management System.
ISO 45001 certificate for occupational health and safety management system.
ESBAS Food Services, which provides the meals presented to the children attending Space Camp Turkey programs, is certified ISO 22000 Food Safety Management System certification. ISO 22000 aims to maintain safe production and consumption of the foods, improving the production and service processes, thereby making them safe for human health.
ESBAS the parent company of Space Camp Turkey, was awarded the "2017 Turkey Excellence Award" by Quality Foundation (KalDer) during the 26th National Quality Congress award ceremony held between November 21st-22nd, 2017. KalDer emphasized the fact that Space Camp Turkey is an example of the creation of cooperation networks determining creativity and innovation opportunities and evaluated 'Space Camp Turkey' approach as 'Good Practice' in terms of 'Sustainable Future Creation'.
Reservations for all programs are made online or through our Reservations Department.
You may pay by credit card or wire transfer. For more information about how to register and pay, please check our "Reservation İnfo Kit".
Fax completed application form to: +90 232 252 36 00
Mail completed application form to: Uzay Kampı Türkiye 35410 Gaziemir, İzmir / Türkiye
If requested, participants' transportation to the camp from the International Izmir Adnan Menderes Airport may be provided by Space Camp Turkey uniformed officers. This service is provided only for individual participants who are not accompanied by an adult or international groups that are attending the Customized Outer Space Adventure program. You can contact our reservations department to arrange your transportation.
Within two weeks after you make your full payment and submit the application form, you will receive an "Info Kit," which contains the transportation and health forms. Both forms must be completed with required signature(s) and received by our Reservations Department no later than two weeks prior to the camp session start date.
Your reservation will be cancelled if the required forms are not completed.
If the camper's travel schedule requires arrival any time before camp starts or any time after camp ends, a planned and supervised program is available. Please contact the reservations department for details.
Summer and holiday sessions fill quickly. If your desired session date(s) is full at the time you register, you can be placed on our waiting list. If a slot opens, we will notify you by telephone no later than two weeks prior to the session date. We reserve the right to cancel a session date if participation numbers are not adequate.
Our programs are priced as a package. Participants who leave before the end of the program for any reason are not entitled to any reimbursement for the remaining days.
Campers must be at least 4 feet (120cm) tall and weigh no more than 210 pounds (95kg) to ride the simulators. Campers who do not meet these safety criteria and still choose to attend a session will not be entitled to a refund because of these restrictions.
A "no show" is non-refundable.
No refund will be made if a camper leaves the camp due to a rule violation.
Cancellation notice must be submitted in writing. Refunds will be made within 30 days.
90% of the tuition will be refunded if written notice is received no later than 30 days prior to session day. 75% of the tuition will be refunded if written notice is received no later than 15 days prior to session day. No refund will be made if cancellation is made 15 or less days prior to session day.
No refunds for extras.
70% of the tuition will be refunded in program cancellations following a second session change.
If the payment is made in Turkish liras, the refund will be made in Turkish liras using the exchange rate on the date of payment. If the payment is made in U.S. dollars, the refund will be in U.S. dollars.
The measures can be updated in accordance with the circulars published by the Republic of Turkey Ministry of National Education, Republic of Turkey Ministry of Culture and Tourism, Republic of Turkey Ministry of Health and the Scientific Committee based in Turkey. Visit the following link to see up-to-date measures;

https://www.spacecampturkey.com/reopening-procedures

Participants are deemed to have accepted that they will comply with these rules by participating in the program. Participants who do not comply with the rules are removed from the program and no refunds are made.

In the event of any of the participants is diagnosed with Covid -19 during registration at the camp and the program, the participation of the participant will be stopped with the approval of the camp physician. All Antigen / PCR test costs and the costs to be incurred for the treatment of the participant in the event of the participant being diagnosed with COVID-19, and all additional costs that may arise due to possible quarantine application, transportation procedures and/or all kinds of measures taken by the Republic of Turkey within the scope of fighting against Covid-19 virus will be covered by the participant.
Space Camp Turkey (SCT) reserves the right to cancel and/or change certain activities or the whole program in compulsory cases.
We understand you will miss your child while he or she is attending camp. However, we discourage visits while camp is in session so that your child may have a true "away-from-home" experience. We do encourage parents to attend graduation ceremonies and will make special arrangements for visitation in case of family emergencies. During registration, parents must designate who is authorized to visit or pick up the camper and proper identification is required at time of visit or pick up.
Campers cannot receive personal phone calls except in case of emergencies. Your child will have the opportunity to call home in the evenings and/or mornings with a calling card or his/her mobile phone (schedule permitting). You may not hear from your child every day. Make sure he/she has phone numbers where family members can be reached at all times. Students do not have access to Space Camp Turkey's Wi-fi.
(The mobile phones, cameras and pocket money that are brought to Space Camp Turkey with you are not covered by our insurance, and Space Camp Turkey and ESBAS cannot be held responsible in case of loss or theft.)
It is the parent's own decision to give the participant pocket money. All meals are included in the tuition cost after check in and before graduation. We have vending machines if the students would like to buy chips, candy bars, beverages, or ice cream. We also have locks and phone cards available for purchase.