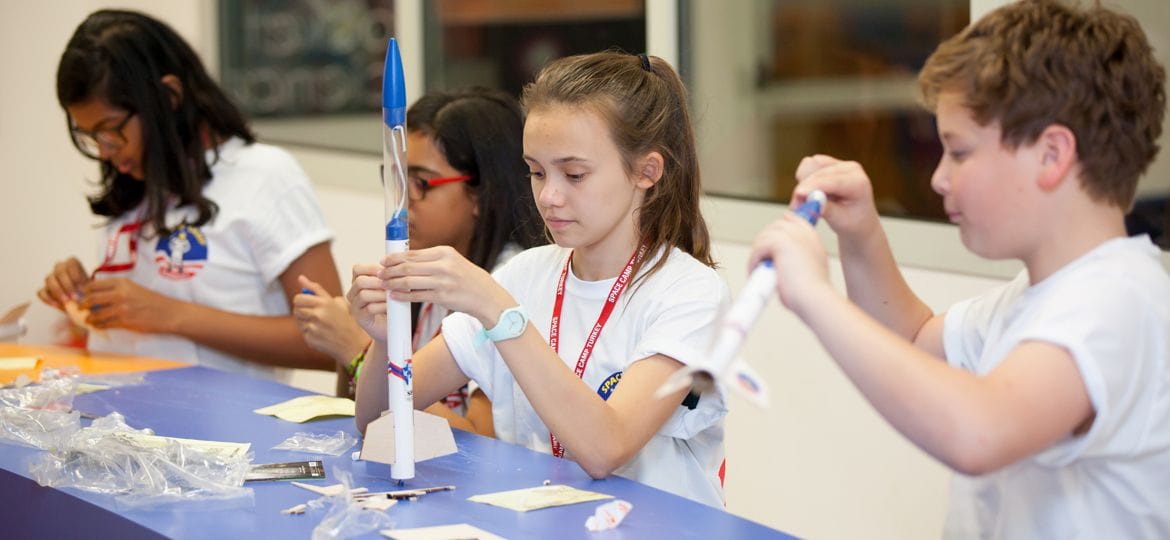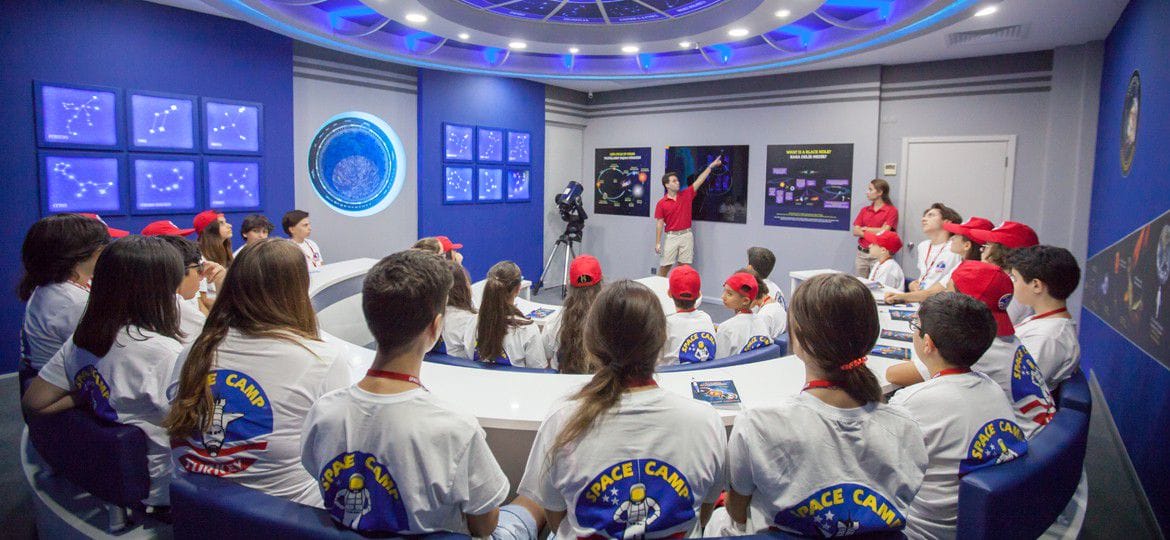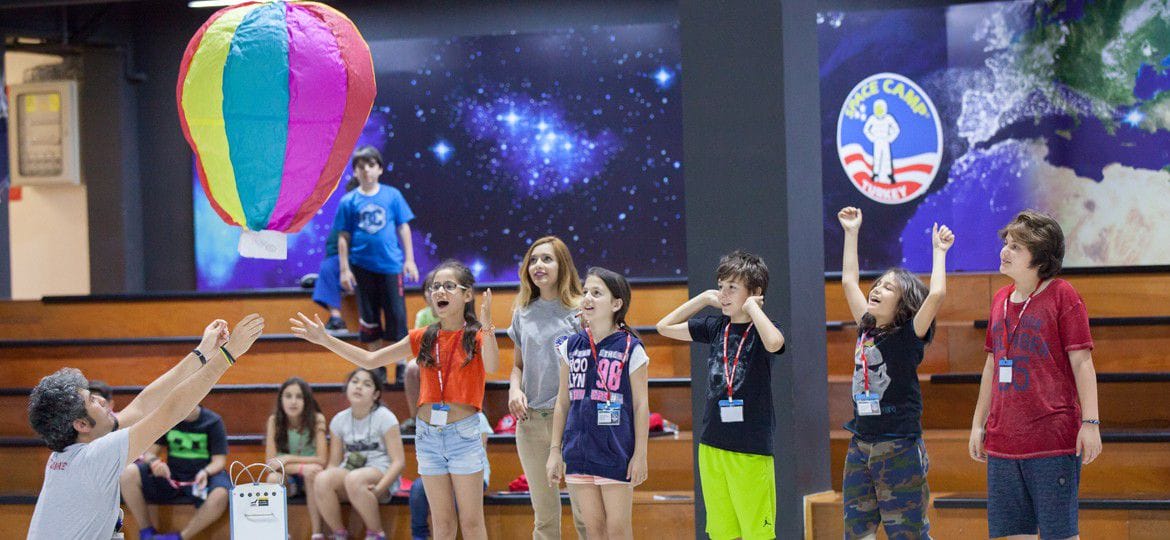 ---
Program Content
Program Date
Age Range
Price (Per Person)
Turkish
January
9-15
560$
English
January
9-15
610$
Check In:
Sunday 1-4 pm
Check Out:
Friday after 9:00 am graduation
---
The program prices above belong to the session with the highest price and will vary according to the selected date.
The Semester Space Explorers program teaches team-building techniques and explores space sciences through the following interactive activities:
Participate in a one hour simulated Space Shuttle mission
Experience all seven astronaut training simulators (*)
Design a Mars colony and compete for the top prize
Build a hot-air balloon
Conduct chemical experiments in our science laboratory
Gaze upon the Moon's craters where Apollo modules landed, Jupiter's distinct swirling stripes, Saturn's famous rings, and shimmering constellations through our 10-inch telescope through our rooftop observatory
Locate and name the constellations and stars in our planetarium
Discover the various history of NASA's space suits through the different space programs
Develop problem solving, time management, and teamwork skills
Observe and understand how plants can grow without soil (hydroponics) and take home a sample of your own
Learn about the history of space exploration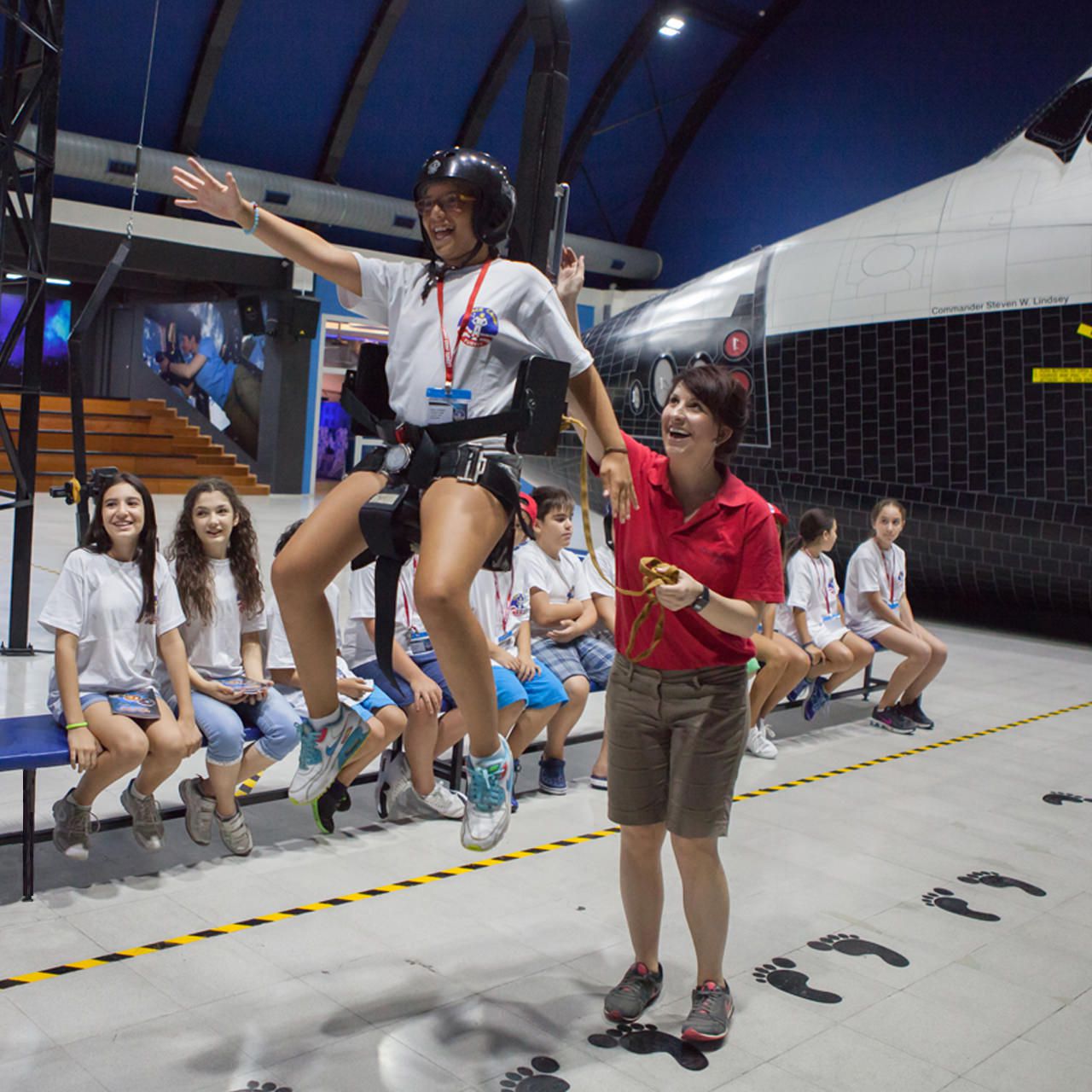 Campers must be at least 4 feet (120 cm) tall and weigh no more than 210 pounds (95 kg) to ride the simulators.
---
Space Station Mission
This activity is the highlight of the program!
During our simulated space station missions, campers are assigned special positions (such as Commander on the Space Shuttle Discovery, Flight Director inside Mission Control, or Flight Engineer in our Space Station)
Each member of the team is integral to the success of the mission. If a team member neglects a vital duty or assignment, it may have an adverse effect on the outcome of the flight.
Participants learn how to effectively communicate with one another, solve problems together, and work as a team to ensure overall success of the mission.
---
Testimonials
For homework I was supposed to write you a letter about the best things that happened to me at Space Camp Turkey: I had a wonderful time at Space Camp and my favorite thing that we did was the Mission because although I was really really busy with all the buttons in the ISS,I was still able to enjoy it and it gave much more confidence in myself. I also loved doing the Multi Axis Trainer because I always love climbing and swinging on trees and this was like a better more fun and faster way of doing that! The food at Space Camp was delicious so that was always a good thing to look forward to :)! The counselors and staff were really nice and patient. I love Space Camp! Thank you!

CLARA JOSEPH

Student
In cases where one or more child from the same family attends the Semester Space Explorers, Semester SpaceExplorers With Robotics, or Galactic Summer Camp program, the first child to attend will be charged full price and each sibling who participates in the same program during the same period will receive a 10% discount.
Semester Space Explorers program is available ONLY during the Turkish semester break.
Prices are subject to change.
Tuition includes: meals, accommodation, t-shirt, hat, and educational program materials.