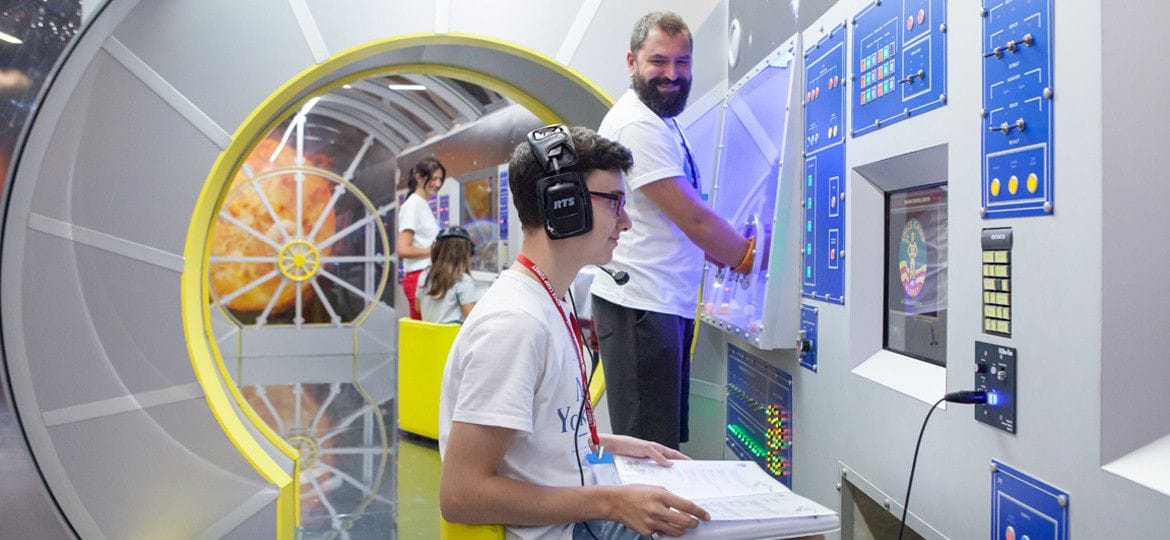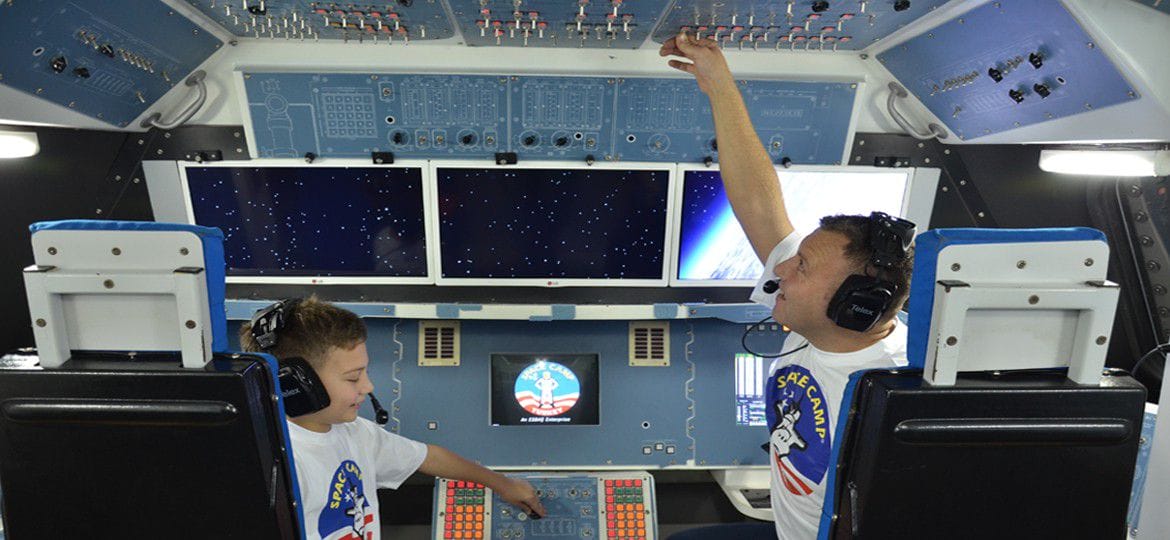 ---
Program Content
Program Date
Age Range
Price (Per Person)
Turkish
7-10
280$
English
7-10
340$
Check In:
Saturday 1-2 pm
Check Out:
Sunday after 3:00 pm graduation
---
Program available for group reservations only.
Journey to Stars Family Program 
Journey to Stars Family Program is a weekend program in which the child participates with one of his/her parents (or a companion over the age of 18). Journey to Stars Family Program provides families an overview of space exploration where they reinforce their bond with their children and create special memories while they experience space simulations participate at Space Camp Turkey. The program, which is specially created for the parents and the child between the ages of 7-10 to spend quality time together, is especially preferred by parents who cannot spare time for themselves and their children in their busy work schedule. While adults observe their children's self-confidence development by the hour as they work together to accomplish their goals, the parents also find answers to their questions about space. 
Have amazing amounts of fun riding three different astronaut simulators together (*)
Studying constellations and their positions in the sky with our Planetarium
Virtual reality adventure with Hurricane 360 VR Simulator
3D space adventure with Riot 3D Ride Simulator
Observing the night sky with a telescope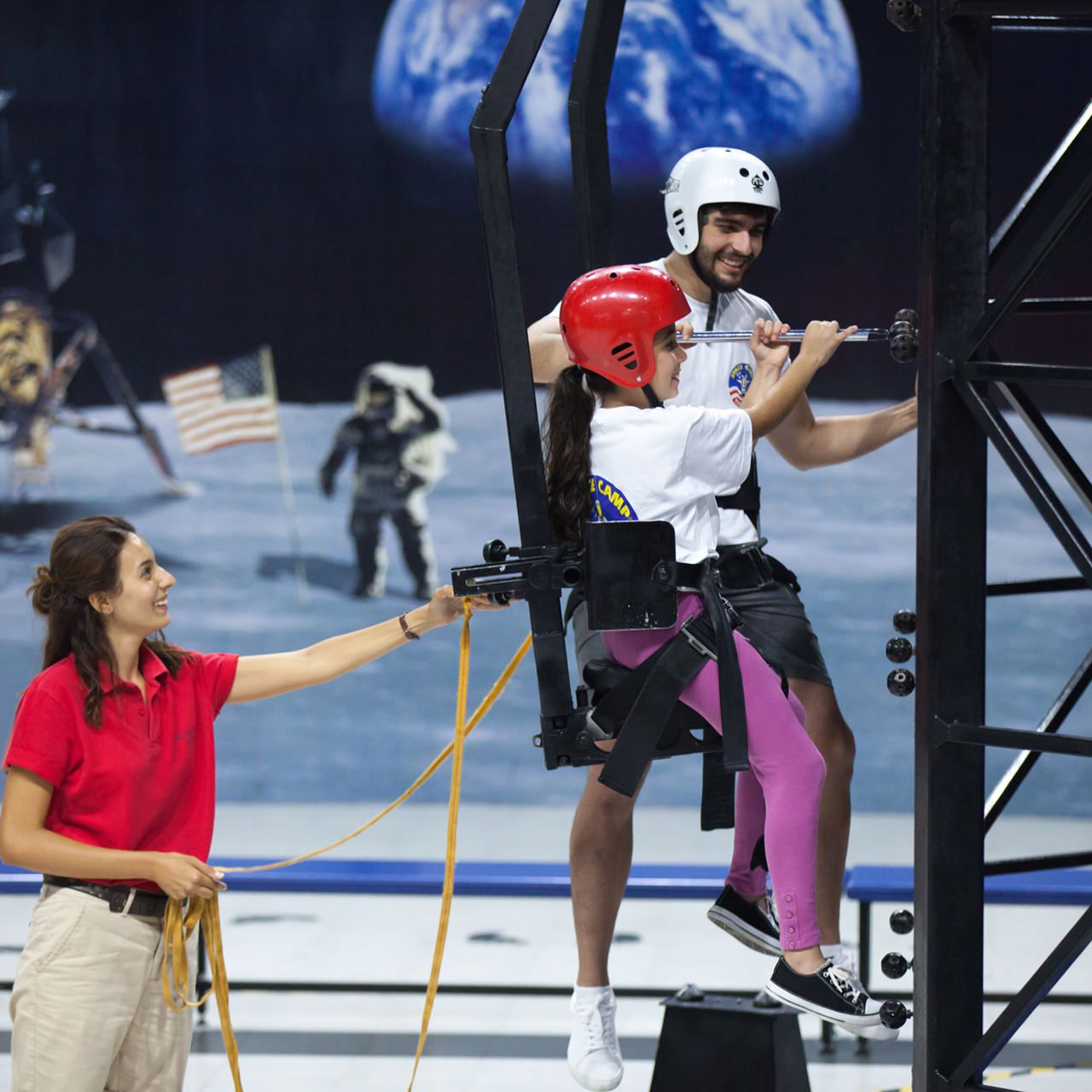 Accommodation is not provided within the scope of the Journey to the Stars Family Program. Participants are required to make their own accommodation and transfer plans.
Campers must be at least 4 feet (120 cm) tall and weigh no more than 210 pounds (95 kg) to ride the simulators. Campers who do not meet these safety criteria cannot use the simulators in the program.
Space Camp Turkey reserves the right to change and/or cancel certain activities or the whole program in compulsory cases.
---
Space Station Mission
This activity is the highlight of the program!
During our simulated Space Station Mission, campers are assigned special positions (such as Payload Specialist, Mission Scientist, or Flight Engineer).
Parent and child can participate in the shuttle mission side-by-side as Commander and Pilot, or perhaps as Flight Director and Capsule Communicator
Each crew member is integral to the success of the mission. If a team member neglects a vital duty or assignment, it may have an adverse effect on the outcome of the flight
---
Dates and Prices
Prices are subject to change.
Tuition for two includes meals, t-shirts, hats, and educational program materials.
Accommodation is not included in the Journey to the Stars Family Camp program fee. Participants are required to make their own accommodation and transfer plans.
Participation certificate will be given at the end of the program.