Space Camp Turkey has been evaluated by Turkish Quality Foundation as a good practice in terms of the concept of "Creating a Sustainable Future".
ESBAS (Aegean Free Zone Development & Operating Co), the parent company of Space Camp Turkey, was awarded the "2017 Turkey Excellence Award" by Quality Foundation (KalDer) during the 26th National Quality Congress award ceremony held between November 21st-22nd, 2017, evaluating the company as a good practice in Turkey.
ESBAS CEO Faruk Güler (PhD) received the prize from Mrs. Buket Eminoglu Pilavci, chairwoman of KalDer during the award ceremony held at Zorlu Performing Arts Center in Istanbul.
KalDer emphasized the fact that Space Camp Turkey is an example of the creation of cooperation networks determining creativity and innovation opportunities. KalDer is quoted as saying: "Beyond the traditional, local management services offered in the Aegean Free Zone, new products and services have been developed in the fields permitted by the legislation and the 'Space Camp Turkey' approach has been evaluated as 'Good Practice' in terms of 'Sustainable Future Creation', which is one of the basic concepts of excellence."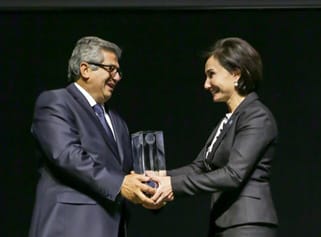 Space Camp Turkey, opened as an ESBAS enterprise in 2000, has educated children between the ages of 7-18 on NASA-designed simulators in the field of applied space sciences and technology. Over 200,000 people from more than 60 countries have participated in programs offered by Space Camp Turkey, one of the three Space Camps in the world, along with ones located in the USA and Canada.