2024 International Summer Camps for Teens and Kids Now Open With Limited Spots! Join the Adventure at Unique Space and Science Education Center.
INTERNATIONAL SUMMER CAMPS
Discover the thrill of international summer camps with Space Camp Turkey's exclusive programs for kids! At Space Camp Turkey, we offer international summer camps tailored for kids aged 9-15 years old. As a world-renowned leader in space sciences and technology education, we are one of only two centers(*) of our kind. Join us for a summer filled with educational enrichment, thrilling experiences, and endless fun.

If you are an expat living in Turkey or planning a trip and searching for a safe and "exciting international summer camp" for your child, look no further, because Space Camp Turkey is the place to be! Give your child a summer full of cultural exchange and unique hands-on space science experiences with students from around the world at Space Camp Turkey. With over two decades of experience, our programs offer the perfect blend of education and fun for kids. But don't wait too long, as spots are filling up fast! Your child deserves a summer filled with adventure and memories, and Space Camp Turkey is the perfect opportunity for just that.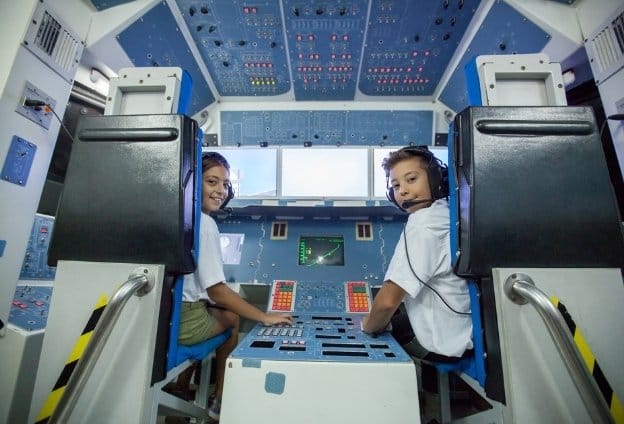 Experience the ultimate "international summer camp with fun activities" and unique educational tools at Space Camp Turkey! With programs designed to challenge physical and mental skills, your child will have the chance to develop essential life skills like time management, teamwork, and responsibility. Get ready for an unforgettable experience with "VR Supported Moon Walk," "Zero Gravity Wall," "Virtual Space Flight with Space Station and Discovery Space Shuttle Integration," and "Generation Mars Interactive Exhibition Area."

(*) Space Camp Turkey is licensed by the Alabama Space Science Exhibit Commission, which is headquartered in Huntsville, Alabama. It is one of the two space camps in the world and the only such facility located in Europe, Asia, and the Middle East.

2024 Accommodated Summer Camp Programs
Blast Off to Lifelong Friendships: Join the International Galactic Summer Camp and Make Memories to Last a Lifetime!

Socialization and teamwork activities in the outdoor playground "Astronaut Adventure Course"
The International Galactic Summer Camp is the longest summer program for kids (6 days) offered as part of the 2024 International Summer Camp lineup. Children will embark on a journey of hands-on learning, with astronaut simulators, astronomy lessons, virtual space flight, and even a moonwalk experience in VR, all while having fun with special presentations, team games, and a barbecue party. Open to kids aged 9-15, this program is available in July and August for English-speaking children. Kids from all around the world, including Bulgaria, Poland, Romania, Lithuania, and Romania, are expected to participate in this exciting summer adventure.
The Benefits of Sending Your Child to Space Camp:
Academic Growth: Space Camp Turkey offers a variety of activities that allow kids to learn about space science and technology. This can encourage their interest in science and technology and inspire them to pursue careers in these fields in the future.

Building Teamwork and Leadership: At Space Camp Turkey, kids develop teamwork and leadership skills through hands-on activities and simulations. Children learn to work together and become confident and effective leaders, preparing them for future success.

Cultural Diversity: Space Camp Turkey is an international summer camp where kids from all over the world come together to learn and play. This unique experience helps children develop an understanding and appreciation of different cultures, an important skill in today's globalized world."
Click for More Information and Registration: International Galactic Summer Camp
5 Reasons to Send Your Child to Space Camp Turkey
(Click to read)


"In 2002, I attended the International Summer Camp at Space Camp Turkey and had the opportunity to connect with individuals from diverse countries and backgrounds. Throughout the program, I was educated on topics such as colonizing Mars, the design of the International Space Station, and..."

Join us at the 2024 International Summer Camps!